---
If you need immediate plumbing service for your home or business, in Lake Country and beyond, give us a call at 262-367-2357 — we're here for you 24 hours a day, 7 days a week.
Emergency Tips
In the event of a plumbing emergency, it's good to know how to quickly cutoff the water from its source. Take some time to locate the shutoff valves for your sinks, toilets, dishwasher, washing machine and water heater. Your best bet is locating the main water shut-off valve in your home. This turns all the water off in the house. Put a tag on the valve, so you and other people in your home can easily find it.
Preventive Maintenance
Fix leaky faucets as soon as possible
Make sure outdoor or crawl space pipes are properly insulated
Do not use liquid chemical drain openers on a drain that is completely clogged
Flush the water in your water heater at least once a year to remove sediment build up
If there's a concern that you may have with your system, call PJs Plumbing at 262-367-2357.
Gas Leaks
For serious gas leaks, please contact WE Energies at 1-800-261-5325.
Water Heaters
Water heaters need to be serviced by an authorized technician depending on the manufacturer of the unit. PJs can help by getting you in touch with the appropriate service representative and providing him with the manufacturer's name, model information and serial number of your unit. This information can be found on the water heater's rating label.
Click thumbnail to view larger.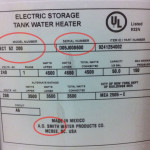 WARRANTY INFORMATION CAN BE CHECKED ON THE MANUFACTURER'S WEBSITE: